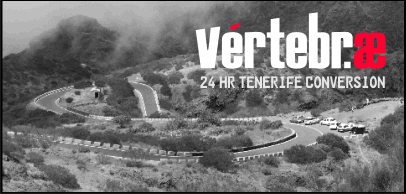 Take advantage of our 24hr Custom Vertebrae Installation!
If you are planning a Tenerife cycle training vacation, you should be pleased to know that we are now offering a door-to-door cable housing fitment service with a 24 hour turnaround period.
We first pick your bike up directly from your hotel or apartment in Tenerife, where you will meet Dr. Leslie Brown to discuss your specific requirements; we then perform a professional, customised vertebrae installation to your exact specifications, finally returning your bike to you within 24hrs in perfect working condition.
There is currently a €150 surchage for this premium service (price subject to change). We are pleased to also offer you a courtesy rental bike from Pro Bike Hire while we are working on your bike. Alternatively, you can opt for a rest day and see some of the attractions in Tenerife while we setup vertebrae on your bike. Please call +34 605 56 2020 for more info.
Why Tenerife?
It's no coincidence that many cyclists choose to train in the Canary Islands -Tenerife- the largest island, offers one of the best cycling locations in Europe all throughout the year.This is home to the world's third largest volcano, and it serves up some of the biggest and most challenging climbs in all of Europe. Starting from sea level, you can ride up to an altitude of 2300m!
What better place to test the limits of your braking & shifting? Naturally, with all the steep offroad descents to be found, it's even popular with the DownHill crowd.
For more information on Vertebrae Components, please see our sister site: www.vertebr.ae