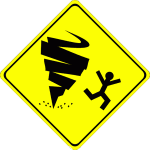 There has been an "Extreme wind risk" issued by the spanish medioambiente site for Tenerife on Monday the 29th of November 2010. I.e. tomorrow!
There are also simultaneous "rain" and "coastal" risk alerts. The maximum gust of wind is predicted to be 170 km/h, with a 40%-70% probability. So yes, this is a serious weather alert folks…
There are three (four?) alert levels:
No Risk Risk Important Risk Extreme Risk.

It's normal for there to be a few sub-tropical storms in the Canary Islands, especially at the start of Winter. This happens when snow is dumped on the peak of Mt Teide. The main danger for all road users are gale force winds, which can cause trees, branches and rocks to fall onto the road surface or vehicles themselves. The chances of this provoking other accidents is greater than normal, due to reduced visibility around blind corners, etc. Cars, trucks and buses may then swerve to avoid obstacles. Therefore, it's highly reccommended that you don't cycle at this time, especially above 1000 masl where the wind level is always esculated.
Last year a whole bunch of pine trees (hundreds!) fell down in the area called "chanajiga" in the North of Tenerife. That landscape is still scarred today by strong winds such as these. Anyway, the good news for tourists is that the weather forecast for Tuesday is much improved, with just the "rain" risk currently in place.