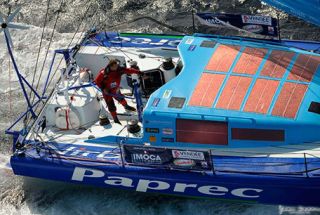 It all started when I was in the local hardware store (Leroy Merlin) the other day, feeling rather bored. I love walking in there as it opens up so many possibilities for new projects. I'm the type of guy that always has to be occupied doing something, be it maintaining, modifiying existing components so they perform better than they did in their original state, or inventing something completely new.
Anyway, I walked down a new aisle called "alternative energy". I was quickly impressed by how easy it looked to hook up all the energy & controller modules. I soon walked out of there with a 2W "solar battery charger" – better than nothing I thought, while I do some research on the other systems offered. I got home, promptly connected the solar charger to my motorcycle's flat battery. My 8 year old neice in law had no idea what this new device was, further solidifying my belief that it was good to be emitting these new green vibes. I had it sitting there in the late afternoon for a few hours and it had still not generated enough juice to start the motor! Just a few turns of the starter motor was all I got. Somewhat disappointed, but thinking: for €24.95, what did I really expect? That's a pretty lame foray into the world of solar.
Somewhat miffed, I just reminded myself that "more power" is the obvious way to go with solar panels. So I went back to Leroy Merlin the next day and sized up the different options. There were solar panels of all sizes, rigid, flexible, long and short. Even though there wasn't much there to choose from, I walked away, scared by it all. Not just because of the initial cost, but the stigma attached to it all. Mulling it all over, I wondered: what are people going to think of someone who is paying €360 for a pair of 14W photovoltaic arrays? Aren't I going to look like a dickhead, when a lot of the appliances I use are well over 500W? I hesitated and procrastinated so much, the security guys were starting to take notice! I looped around the store and got a basket and some other things first.
Then I noticed people wandering around, half of them lost, the remainder buying up all this stuff (with some restraint due to the financial crisis here in Spain). Who knows whether they really needed it or not. Meanwhile, I was facing some kind of reality shock. See, when I was in my early twenties, I decided my goal in life was to have a "minimum impact on the environment". And here I am, a decade later, not doing anything even remotely green. Okay, for sure I turn off all the lights whenever possible (and there are no tungsten bulbs anywhere in my house or car), but so what? That's the least you can do. Otherwise, you're a bit of a moron, right?
My aim for this project was to light the back of my new van so that when I deliver a bike in the dark, there is ample light to do any adjustments, change pedals, etc. Street light is pretty feeble and it just doesn't look like a very professional setup when you can't even show people the best bike routes on a map because it's too dark. The plan is to install some flexible solar panels on van's roof, where there's plenty of stray light already going to waste (reflections, heat and whatnot). I am also planning to at least recharge my mobile phone, laptop, credit card reader and possibly a few other devices like my cordless drill, etc. At least it's a start. Because it's modular, I can always add to the system – I've calculated that the roof of the Renault Trafic will fit up to 6 solar panels, giving a total power generation of 84W. That's something to look forward to. If it all goes well, eventually we'll get the desktop computer off the grid too.
"In just one hour, 
the Sun transmits more energy
to the surface of the Earth 
than what humanity consumes in one year"
This was my moment of self truth. A little fatter now than I used to be and about to commit to this new diesel van for work purposes, I felt environmentally obliged to invest in something good for the planet for once. Like someone was watching over me, something akin to the Truman show (how long does it take this member of society to buck the trend; we've made it so accesible for him?). Can I really afford four or five hundred Euros? Not really. Can I afford not to do it? No freakin' way! [Read more →]