His full name was Pablo Diego José Francisco de Paula Juan Nepomuceno María de los Remedios Cipriano de la Santísima Trinidad Clito Ruiz y Picasso!
By Robert Hughes – TIME magazine art critic

To say that Pablo Picasso dominated Western art in the 20th century is, by now, the merest commonplace. Before his 50th birthday, the little Spaniard from Malaga had become the very prototype of the modern artist as public figure. No painter before him had had a mass audience in his own lifetime. The total public for Titian in the 16th century or Velazquez in the 17th was probably no more than a few thousand people–though that included most of the crowned heads, nobility and intelligentsia of Europe. Picasso's audience–meaning people who had heard of him and seen his work, at least in reproduction–was in the tens, possibly hundreds, of millions. He and his work were the subjects of unending analysis, gossip, dislike, adoration and rumor.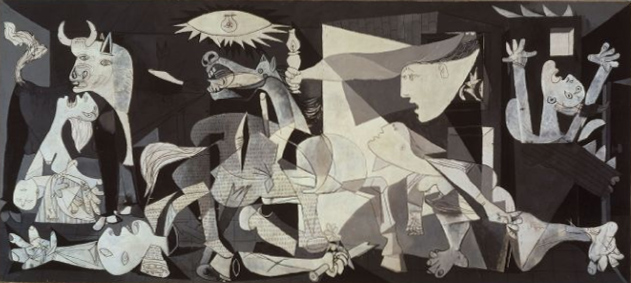 He was a superstitious, sarcastic man, sometimes rotten to his children, often beastly to his women. He had contempt for women artists. His famous remark about women being "goddesses or doormats" has rendered him odious to feminists, but women tended to walk into both roles open-eyed and eagerly, for his charm was legendary. Whole cultural industries derived from his much mythologized virility. He was the Minotaur in a canvas-and-paper labyrinth of his own construction.
"Only put off until tomorrow what you are willing to die having left undone."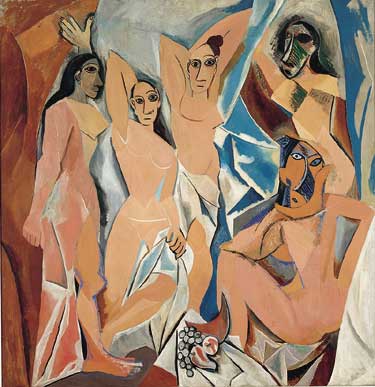 He was also politically lucky. Though to Nazis his work was the epitome of "degenerate art," his fame protected him during the German occupation of Paris, where he lived; and after the war, when artists and writers were thought disgraced by the slightest affiliation with Nazism or fascism, Picasso gave enthusiastic endorsement to Joseph Stalin, a mass murderer on a scale far beyond Hitler's, and scarcely received a word of criticism for it, even in cold war America.
No painter or sculptor, not even Michelangelo, had been as famous as this in his own lifetime. And it is quite possible that none ever will be again, now that the mandate to set forth social meaning, to articulate myth and generate widely memorable images has been so largely transferred from painting and sculpture to other media: photography, movies, television.
Moreover, he was the artist with whom virtually every other artist had to reckon, and there was scarcely a 20th century movement that he didn't inspire, contribute to or–in the case of Cubism, which, in one of art history's great collaborations, he co-invented with Georges Braque–beget. The exception, since Picasso never painted an abstract picture in his life, was abstract art; but even there his handprints lay everywhere–one obvious example being his effect on the early work of American Abstract Expressionist painters, Arshile Gorky, Jackson Pollock and Willem de Kooning, among others. 
Though the public saw him as the archetypal modernist, he was disconnected from much modern art. Some of the greatest modern painters–Kandinsky, for instance, or Mondrian–saw their work as an instrument of evolution and human development. But Picasso had no more of a Utopian streak than did his Spanish idol, Goya. The idea that art evolved, or had any kind of historical mission, struck him as ridiculous. "All I have ever made," he once said, "was made for the present and in the hope that it will always remain in the present. When I have found something to express, I have done it without thinking of the past or the future." Interestingly, he also stood against the Expressionist belief that the work of art gains value by disclosing the truth, the inner being, of its author. "How can anyone enter into my dreams, my instincts, my desires, my thoughts … and above all grasp from them what I have been about–perhaps against my own will?" he exclaimed.
To make art was to achieve a tyrannous freedom from self-explanation. The artist's work was mediumistic ("Painting is stronger than me, it makes me do what it wants"), solipsistic even. To Picasso, the idea that painting did itself through him meant that it wasn't subject to cultural etiquette. None of the other fathers of Modernism felt it so strongly–not Matisse, not Mondrian, certainly not Braque.
In his work, everything is staked on sensation and desire. His aim was not to argue coherence but to go for the strongest level of feeling. He conveyed it with tremendous plastic force, making you feel the weight of forms and the tension of their relationships mainly by drawing and tonal structure. He was never a great colorist, like Matisse or Pierre Bonnard. But through metaphor, he crammed layers of meaning together to produce flashes of revelation. In the process, he reversed one of the currents of modern art. Modernism had rejected storytelling: what mattered was formal relationships. But Picasso brought it back in a disguised form, as a psychic narrative, told through metaphors, puns and equivalences.
There seems little doubt that the greatest of Picasso's work came in the 30 years between Les Demoiselles d'Avignon (1907) and Guernica (1937). But of course he didn't decline into triviality. Consistently through the war years and the '50s, and even now and then in the '60s and '70s, he would produce paintings and prints of considerable power. Sometimes they would be folded into series of variations on the old masters and 19th century painters he needed to measure himself against, such as Velazquez and Goya, or Poussin, Delacroix, Manet and Courbet. In his last years particularly, his production took on a manic and obsessive quality, as though the creative act (however repetitious) could forestall death. Which it could not. His death left the public with a nostalgia for genius that no talent today, in the field of painting, can satisfy.