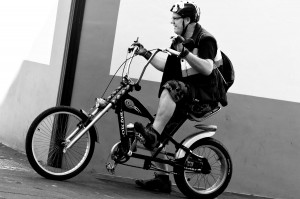 I've decided to update the blog and publish some of the articles I've had sitting in draft format. Over the years, we've had to dramatically cut costs in order to survive. So I'm now going to share with you some cheapskate ways to save money.
The first area you can save a lot of money is nutrition. The cost of powerbars, powergels and sports drinks really starts to add up when you're doing lots of miles. If you must buy these things, buy them in bulk. There are also plenty of ways to make your own products.
I personally use water now instead of power drinks. Otherwise you're literally pissing that money away.
Chain oil. Yes that's right, chain oil. What did I use for my rental bikes? Plain old everyday engine oil. I used the lightest oil I could find. In fact it offered way better performance for MTBs (because volcanic dust dries out wax-based lubes). The only difference I find is that wax-based lubes don't stain your calves quite so much.
Repair inner tubes. I used to do this and got really good at it until people started compaining that "it wasn't safe". The fact is, if you do it right, it is safe.
If you have to read about cycling, don't buy magazines – read books instead! Magazines are filled with ads. Books are not. Magazines will tempt you to get stuff when you don't really need it. Books will tend to get you out on the bike more, be more motivated, not less.
Buy 105, Ultegra, Deore, SLX, and XT. Beyond that and you're really not getting a good cost-benefit ratio. Of course, you probably knew this already.
If you do want to save up for a bike, buy a good frame. Focus on the frame, as a good frame can easily last you 5 or 10 years. Components on the other hand will wear out and need to be replaced. So invest in a good frame, make the frame the priority and then worry about the rest of the component spec. Buying a good frame will save you money in the long run.
Insurance. Do you really need to insure that bicycle? Almost every average car in Spain for example is only insured for 3rd party damage (which is compulsory). Almost no one pays the small premium for fully comprehesive. Because quite frankly it's a waste of money (except of coure if you have a lot at stake like repaying a mortgage / owning your own home). This is the main reason why poor people are uninsured — they know it's not a fundamental need and one of the first places to cut costs.