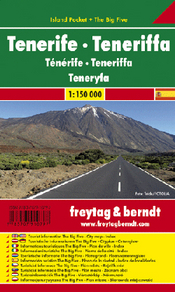 This is the best road map of Tenerife for cyclists; it contains all the major and secondary roads and even some offroad tracks.
Roads are laballed with the standard "TF" designations and include kilometre markings between major towns. This definitely isn't a topographic map but there are several altitude points referenced. There's also an inset map of the capital city, Santa Cruz. The best thing is that it's pocket sized and plastic-coated so it won't disintegrate in that sweaty back pocket of your cycling jersey!
There's also another 1:75,000 version of the Freytag & Berndt Tenerife map; it has a cardboard cover but it is too big to fit in your pocket & doesn't contain any more detail than this one (apart from the altitude contour lines). Unlike its big plain-backed brother, this mini-map contains some extremely brief tourist information on the reverse side (in ten languages!).
If you're looking for the best MTB map of Tenerife with all the offroad tracks, I strongly recommend the Kompass #233 map instead. It's probably too large for road cyclists though and very difficult to fold up again correctly.