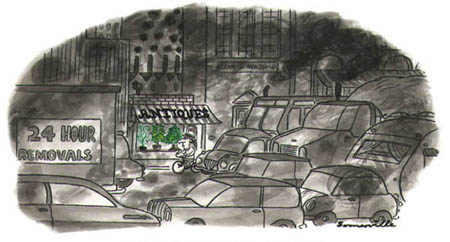 What is happening to the world? In short, most people refuse to ACT, because they're be too busy justifying their need for a high standard of living, blaming goverments for the situation, & avoiding the underlying social & environmental crises. This sounds like an inescapable viscous cycle to me.
Yes its all been brought about by greedy 1st world nations. Blatant consumerism- which capitalises on the latest scientific advances and all the while fueled by governments who only think in short term economic gains. The first need is to communicate the problem. The next requirement is change. People are afraid of change, but to me it seems the world is changing for the worse anyway.
Anyone who has read Schumachers book "Small is beautful" will know that over the long term, what we are doing to planet Earth surely must be considered uneconomical. Are people so afraid of change now that they're willing to bury their heads in the sand about the future repercussions? I think where we're headed, the changes will be alot more daunting than the thought of giving up our most prized possessions. Chaos will be surely covered in one of my future articles, but who wants to live in a world without nature?
TRADITIONAL ECONOMIC WORKING PRINCIPLE:
There is a general consensus that a fundamental source of weatlth is human labour
Businesses & Governments maximise profit, consumption and therefore economic growth
Employers maximise labour effort (bosses expect their "pound of flesh")
Employees minimise labour effort (to work is viewed as a sacrifice of one's leisure and comfort; wages being a kind of compensation)
BUDDHIST ECONOMIC PRINCIPLE OF WORK:
Work gives each person a chance to utilise and develop their [unique] faculties
Work enables humans to overcome their ego-centredness by joining with other people in a common task
Work provides the goods and services needed for a becoming existence [creativity activity is vital]
The former, in short, tries to maximise consumption by the optimal pattern of productive effort, while the latter tries to maximise human satisfactions by the optimal pattern of consumption. It is easy to see that the effort needed sustain a way of life which seeks to attain the optimal pattern of consumption is likely to be much smaller than the effort needed to sustain a drive for maximum consumption.
It is not wealth that stands in the way of liberation but the attachment to wealth; not the enjoment of pleasurable things but the craving for them.
But what can we actually do about it? Firstly, don't replace things before we need to; repair them if necessary, use them until they can no longer be repaired. Yes, there is some real satisfaction to be gained by owning things that last through time. Do we need the latest 3GÂ phone or mobile electronic device? A phone is a phone for Pete's sake!