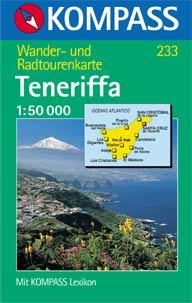 This is by far the most detailed tourist map of Tenerife at a scale of 1:50,000. The Kompass 233 map contains all the major mountainbike trails and walking tracks. Altitude contours are shown at 100m intervals so it's ideal for both hiking and mountain biking. You can't get any more detailed without getting one of the expensive official Spanish military maps.
There's a multi-lingual legend showing imporant points such as: alpine shelters / refuge huts, hospitals, parking, information, lookouts, museums, monuments, climbing walls and even surf spots! Suggested MTB routes are outlined with blue dots.
This map includes the following inset city maps: Puerto de la Cruz, La Orotava, Los Cristianos, Playa de Las Américas, San Cristóbal de La Laguna and Santa Cruz de Tenerife. There's also a Tenerife guide, but alas only in German (even so, it's worth every cent).
As with all large-scale maps, there's only one right way to fold it and many wrong ways… so if you're looking for something easier to manage, one of the only other road maps of Tenerife I can recommend which is also suitable for road cycling is the Freytag & Berndt 1:150,000 Teneriffa map. It's smaller, plastic coated and much easier to fold than this blanket.