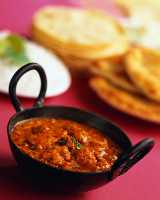 The 31st of July is my 30th birthday. If all goes well, that will coincide with the launch of the new website format. To celebrate, we're going to a Hindu restaurant in El Puerto de la Cruz with some good Canarian friends of ours.  That should be interesting because most local people living in the Canary Islands are not accustomed to such hot food! hehehe. My girlfriend is already hooked on Thai food. The first time she had tried a curry was at 27 years of age I believe; it was a pretty mild version, but you could actually see her lips glowing red hot.

UPDATE: 05/08/07. A total of six of us went out (5 were local friends from Tenerife) & we had a great fun night. We ordered and sampled lots of familiar dishes that appeared on the menu: pappadams, chicken tikka & samosa entrées, chicken korma, butter chicken, a delicous do-piaza lamb curry and of course naan bread and perfectly cooked basmati rice. The waiter also suggested a prawn dish (jalfrezi?), but that only served to ruin the other meat flavours.
Chiqui (now 29) was the only one besides myself who had previously tried Hindu food! The rest of them were 30+ years old and it was their first Indian Curry food experience! I'm pretty sure two of them has never even tasted any sort of curry in their entire lives. Is that strange, or what? I warned them that vindaloo was forbidden; luckily they heeded my advice, 'cause they even thought the pappadams were hot (I forgot they had some pepper sprinkled on them). Well they all thought it was delicious, and enjoyed all the dishes so much so that there definitely wasn't any left-overs.
What can I say? Spanish people are just not accustomed to spicy curries, yet they're soon hooked on the flavours. Spanish is nothing like Mexican food; here they only use the tiniest amount of green chilli in their mojo. Or they'll use one dro pof tabasco sauce, if that. Curry is non-existant. Canarians primarily use parsley in great quantities in the aforementioned green mojo sauce (with olive oil and wrinkles potatoes). All other herbs and spices seem to get overlooked. At least the younger generation are willing to experiment & try new foods… next time I'll be ordering Saag, Rogan Josh, Madras… and then who knows? Maybe one day they can slowly work their way up to a vindaloo!