I've been a cyclist for 15 years now and used a lot of different tyre levers that are available on the market. Several years ago, I encountered these rather strange yellow tyre levers embossed with the single word "michelin". Of course, they're not really embossed, they're injection moulded, but that's beside the point.
They're manufactured from some sort of special polymeric material. I have a doctorate in Materials Science and I still don't know what it is. It looks like polypropylene or nylon, but I don't have an infrared spectrometer handy, so I couldn't tell you exactly what they're made from. Let's just say that they're way better-than-average in quality.
You get three of them, but most of the time you can get away with using only two. The other good thing is that they are just the right size and shape. The end that hooks onto the rim sidewall fits all rims perfectly. The other end will never bruise your hand. They're not too narrow, otherwise they'd break; neither are they too wide, else they wouldn't work as well. They're also just the right length. Not too long, so you can't more leverage than necessary -but not too short either! They are also flat and don't take up any more space than needed.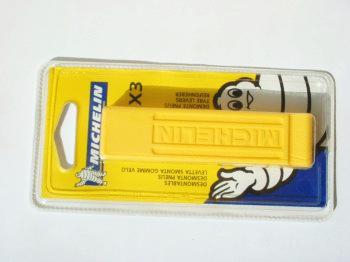 Some French product engineer deserves a medal for this under-appreciated little bike tool. They're like the "chris king of tyre levers" and for the price (€3), this is possibly the best thing you can buy for any bicycle rider as a christmas present!
Every time I go to decathlon, I buy a set. They're the only tire levers I can whole-heartedly reccommend to cyclists. They're the ones that I supply in every tool kit with all the road and MTBs I rent out here in Tenerife. No one has ever complained. They never break, although I hope Michelin never stops making them.
On the other hand, the worst ones you can get are the thin steel ones available from Kmart, and other supermarkets;  they'd rather dent your aluminium rim (or crack your latest carbon fibre wheelset) sooner than flip that kevlar tyre bead over the edge.