Wear Rate:
I bought these tyres on sale at Decathlon some time last year and they have not lasted long. In fact after only a few months use, one potential client looked at the tread and rather cheekily told me "this tyre is no good for me". It was at that point I realised these tyres have worn considerably fast. I won't be buying them again for my rental bikes because they are just too costly. My own bikes are a different story…
Onroad Grip: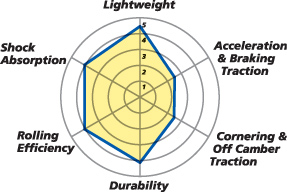 In part due to that comment, in the past few weeks I've taken to skidding down some of the oldest tyres (the ones which are too old to rent out for more than a few weeks) and replacing them with fresh rubber. Apart from having a lot of fun skidding all over the place, I quickly found out when it was this tyre's turn, that not all rubber compounds are created equal. The Michelin XC Dry 2 has by far the best grip of any MTB tyre I have tried so far. Where older GEAX tyres would skid for maybe 20 or 30 metres and barely slow me down, these things actually GRIP when they skid, and you can hence stop a lot quicker, at least on paved roads.
Offroad Grip: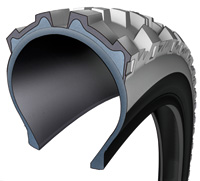 They are excellent for dry offroad surfaces which aren't too bumpy. They are hopeless for mud because it just gunks up all the knobs. If you ride rockier terrain, you're also probably better going with a wider tyre… I found them to have adequate traction offroad during the first part of their life, but their lifespan unfortunately gets cut short because the centre knobs are not very big or tall to start with.
Dual-Compound Rubber:
After complete wearing these tyres down to the protective belt, I was also suprised to see that these actually are composed of two different densities of rubber. The harder rubber provides a firm, long-lasting base for the tread. Meanwhile, the each of the knobs are composed of little central cores of hard rubber that give extra stable support – these are 'capped' by a much softer rubber compound to provide additional traction. Last but not least, I experienced no issues with punctures on either the tread or sidewalls.