Once used to be my favourite cycling team. They always had such a big presence at the front of the peleton during the tour de France in days gone by; especially during the team time trial stages, they were always the best-dressed of the bunch. Depending on where you're from, you may or may not know that Team Once was actually sponsered by the Spanish Once Lottery.

While the lottery is popular in other contries, nowhere is it an INSTITUTION like it is here in Spain. There are tiny telephone-box stalls all over the place. You'll even see people selling tickets on street corners. Apparantly they can be trusted, because drivers will stop & park their car just to buy a ticket, then continue their journey. Even grandmothers practicing holey catholocism will place a bet each week. The most important time for lotteries in Spain is during the christmas period, when its not unusual for people to spend several hundred euros on a whole run of sequential tickets.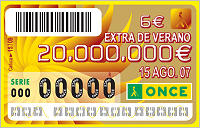 This week, today in fact, is the major summer draw. The person lucky enough to produce the ticket with the winnning numbers pockets a cool €20 million (completely tax free!). Fingers crossed!

*UPDATE* Nope, no such luck. Six Euros down the drain… 😐