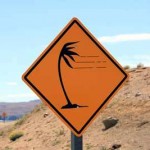 In case you weren't aware of it already, the local weather authorities have recently issued yellow & orange wind & rain alerts for most of the Canary Islands. Wind gusts up to 120km/hr are predicted in La Orotava and Vilaflor municipalities. There is even a red alert situation currently in place in La Palma (Wind gusts up to 130km/hr!) It's definitely not safe for cycling over the next 48 hours or so until the storm passes, for two main reasons:
Gusts of wind make riding in a straight line extremely difficult and may blow you off your intended course.
Debris will scattered on road surfaces and could possibly hit you.
Generally it is windier as the altitude increases as the mountains are more exposed to wind. Coastal regions tend to be more sheltered although the seas are also affected by this weather. Should be interesting to watch cloud formations continue to develop with this webcam. For more info, see this link.