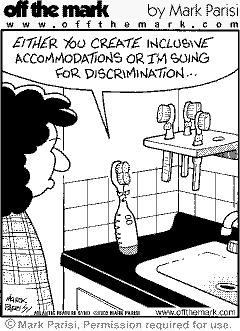 Well in recent news, I've been banned from the TenerifeForum.com, again. And basically, I could see it coming. Hence the recent posts concerning social outcasts. I talk about the breakdown of modern society; have we lost that all important ability to interact and communicate with others? Either face to face or even on the telephone. The internet seems to have stolen that from us.
The first time, all it took was to say "I think I'll head over to www.sun4free.com … adios!" in a private message to one of the moderators, and they took that as a form of self-exile. "Self ban" it's called, athough I never specifically requested that. I put it down to lack of communication. I simply intended to login less & not post as much. But given the chance, that one person jumped at the opportunity to expunge me from their growing community. Now I can't even login to find & quote some of my former posts -a pity- because I think some of them were quite profound, especially in the context of society & culture.
The second time, a week later, the excuse given was for petty minor signature violations and spamming via PM. I changed the signature, removed my commercial link (which wasn't allowed as it contained a link to my Spanish cycling forum with less than 10 members)Â and left the link to this blog. What happened next? Once again without warning, they notified me that the required font size is two not three. Except they bannished me before I had any chance to change it. Well done!

 
Let's cut to the chase – Why the discrimination of all of a sudden?
For some time, I could see the forum was undergoing mitosis. Splitting, if you will. Forming its own self-sustaining british expatriate sub-culture. There are those expatriates who integrate with the local culture, speak spanish, and live like a local, and then there is the whole British expatriate community who live in Los Christianos & Las Americas. Yes, of course there are also many shades of grey in between. But in General, this is a perfect example of an "immiscible culture".
I believe that I've been evicted unfairly, because I stick up for local Canarian Culture & Society. I live with a Canarian family on this island and I interact with local people. For some reason, they see that as some kind of a threat. Now it appears I'm the troll and I've been lumped with the stigma of being banned from a forum twice in as many weeks.
They'll probably be threatening legal action the next thing you know for this reference… In complete honesty, I can no longer be bothered participating in a forum moderated by such closed-minded people. After the way I have been treated, I have no wish to return. To Zarion, the administrator, I pose this question: are you afraid to talk with me on the humble telephone? You know where to find me if you woud ever like to chat or meet in person. But I will say this: I think you've forgotten the definition of the very word "forum" - a public place for open discussion. You only seem to wish to preserve current clique group. Far from helping expatriates to truly integrate into this country, you've actually spawned your own "immiscible culture"; a place that discourages true integration, and protects its own, at all costs.
I believe at least I made some worthwhile discusions & contributed some sort of philosophically awareness of real Tenerife Culture. Life from an outsider's perspective… new thoughts on which people could dwell, perchance to open and expand their world beyond what they currently see. And call me paranoid if you will, but I reckon it's probably not such a bad thing that I live in the time of freedom of speech, or I'd have been persecuted long ago.
"Ostracised, but that's alright. I was thinkin' about something myself." – Guns 'N' Roses