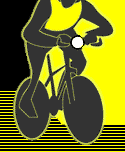 Most motor vehicle accidents involving cyclists happen at dawn and dusk. The reason for this is that there are more commuters out there on the road at these times. At the same time, the road visibility is far less than during the day, so the chances of being hit are relatively high. I've taken the opportunity to gather together some very interesting products aimed at increasing your safety while riding at night.
---

Knog
 is an Australian company which shows an unmatched dedication to its products. The last time I was at the Sydney bicycle show, their products totally blew me away. It's one of those companies that you hope and prey won't go bankrupt before you have a chance to own something made by them. They sell an excellent range of cycling-specific accessories such as lights, messenger bags, bike bags & clothes. Then there's these units called "frogs". It's probably the most unique web site designs I've encountered in the last decade of internet surfing. I just can't do it justice…
better go take a look for yourself
!

Take the mighty light they call "gator", shown above. It utilises 2 x 3 Watt Hi-powered LEDs and 1 x 5mm LED. It has a 18o° main spot light which throws out 450 Lumens; the 32o° wide angle beam provides 300 Lumens, while the 600m visibility flasher = 10,000 millicandelas.
Then there's these units called "frogs". Weighing in at just 12 grams, battery life lasts from 80 hours (steady mode) up to a maximum of 160 hrs (flashing mode). They're also water-resistant, boast a flexible silicon body with an integrated bike mount and are available in at least 12 colours (I lost count). The single super-bright LED is visible up to 600 metres.
---

CycLite® night safety gear is engineered for both the serious and casual cyclist – by real cyclists.
CycLite®
products feature 24-micron-thin Electroluminescent Lamps that are completely flexible, virtually weightless and highly durable. Essential products include: technical and casual jackets, lightweight vests, and adjustable lighted belts.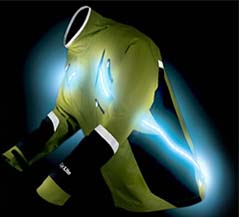 This range reflects the diverse needs of commuters, racers and highmileage riders. Watch for the introduction of new custom-engineered strobe-lite helmets, packs and accessories for trailers and strollers.CycLite® and StrideLite® products feature 24-micron-thin Electroluminescent Lamps that are completely flexible, virtually weightless and highly durable. Electroluminescent (EL) Lamp Specifications:
24-micron-thin EL Lamps

Completely flexible, virtually weightless and highly durable

20,000 hours life span (6 hours a day, 365 days a year for more than 9 years)

Patented Lamp design means superior durability (lamp operates if circuit breaks)

3M™ clear polyester film + DuPont® phosphor inks: trusted names in safety

Blue strobe-lite is more easily noticed than white or red

1 year manufacturer's warranty

1,000 – 1,200 Hz Frequency

Visible from 600 m or 1/2 mile

2x per second strobe

 

Engineered and assembled in North America 

Extremely robust and seamless glass-filled nylon composite electronics housings
Outerwear
Most Technically-advanced

fabrics and sealing systems (breathable + barrier)

Activity-specific tailoring + fit (cycling vs. walking vs. running)
Technical Specifications
360° Blue Strobe-Light visible from 1/4 mile

300+ hrs before changing 2 "AAA" Batteries

3Mâ"¢ Scotchliteâ"¢ Protective Accents

Lightweight + Activity-specific Tailoring

Shock + Weatherproof Casings + Electronics

Breathable Technical Fabric
---

Niteize
 specialises in a whole bunch of clever neon, glowing lites for cyclists & pets. This "magic marker" for instance can be placed anywhere & features a flexible, rugged design which is also very shock resistant. It becomes reflective when turned off, boasts a 150 hour battery life (100,000 hour L.E.D. life). It has either flash or glow modes and is available in either green or red colours. Visible over 1 mile! They also make this interesting
spoke light
, which could just be the thing you've been looking for if you want that extra bit of night-time visibility.
---

The folks at
Newlite
have finally created a full line of solar-powered torches including headlights. The world's first Solar Powered LED Headlamp capable of charging your hand held electronic devices! The EL8 Solar Headlamp takes six hours of solar charging to provide 12+ hours of bright white LED light. The small monocrystalline solar panel recharges the Li-Ion cell phone battery inside the Headlamp.
Charge your Headlamp with the small solar panel (size is only 2.5 x 4.5 inches)
6Â hours of sunlight provides a full charge so the LED light runs all night long
Small and lightweight parts, Headlamp weighs 2 oz and Solar Panel weighs 3 oz
Comfortable headband strap with snap-in mount and hinged angle adjustment
Bright white LED light provides good visibility up to 60 feet distance
Battery charge indicator so you always know how much juice is left
Sequencing pushbutton switch for various LED operating modes:

full brightness up to 12 hours
photocell mode turns on LEDs only in darkness
half brightness up to 24 hours
emergency blinking mode up to 24 hours

Charge cell phones, iPods, GPS, digital cameras, etc. by plugging in optional Accessories       

Optional 12V and USB Converters provide 12V or USB power output
---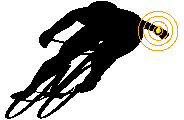 The Safe Turn Indicator is a small, portable, automatic bicycle indicator that easily clips to the wristband that is provided or to your own cycling glove.
SafeTurn
does not require any special action from the cyclist, unlike other bicycle indicators. When your hand is raised to indicate a turn, the internal tilt switch detects the change in position and the orange ultrabright LED's start to blink.You do not have to learn to use the device, as its use can be combined with your regular riding style.
To accommodate for individual riding styles, the base can be adjusted at 15 degree intervals to allow the tilt switch to function at any angle.Containing 3 LEDs, the Indicator is extremely visible and flashes just as a vehicle/motorcycle does. It will keep blinking as long as your hand is raised. It is portable, lightweight and has a low energy consumption. Most importantly, the Safe Turn Indicator promotes safe cycling. The Safe Turn Indicator is a proudly Australian invention and product.
---

Biking in cities can be dangerous, especially if people don't see you. This can be solved by using lots of lights, but it's still hard to tell what a cyclist is planning on doing – unlike a car which has brake lights and indicators. This
Reactiv cycling jacket
 comes with built-in brake lights and indicators. The Reactiv cycling jacket is intended to bring this extra safety to cyclists, by giving them indicators and brake lights too.LEDs are built into the back and sleeves of the jacket, powered by a battery pack. The rider's back lights up green when they are accelerating or going at a constant speed and red when they brake. There are also indicator lights built into each sleeve which are triggered when the rider raises their arm to indicate.
It has been designed by Michael Chen, who has just won a Dyson design award for the product, and hopes to find a manufacturer soon and ultimately market it for around £100. He said, "There is a lot of hostility from bus and cab drivers towards cyclists. Cyclists are brave. It is so dangerous without bike lanes. When I visited Korea last year, I noticed their cities had better bike lanes than London." Here's  another idea for a jacket incorporating LED turn signals.
---

The 360 degree visibility Pedalite pedals are the unique battery-free peal lights for bicycles that have been designed to make cyclists more visible to motorists day and night, from a distance of up to 1 km away and from any angle, including the side. As soon as you start pedalling the Pedalite pedals uniquely harvest and store a small amount of energy so the lights continue to flash when the cyclist is freewheeling or has stopped at a road junction.75% of Cycling accidents happen at, or near, a road junction, where bicycles need to be seen from the side. Pedalite pedals help cyclists create their own virtual cycle lane as motorists naturally give cyclists with Pedalite pedals a wider berth and distance, increasing their safety. The Pedalite pedal provides a moving, flashing night light cyclist signature for the motorist and is the only battery-free pedal which maintains flashing lights once the cyclist stops pedalling. A 9/16″ pedal axle spindle fits all bicycle cranks.