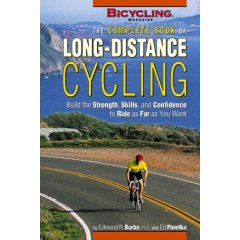 First let me say that I'm not a beginner, I've been riding for 8 years (no not all in one go!). Yet this book taught me so so much. Thankyou to both Ed Burke & Ed Pavelka!! I thought I knew a lot, until now that is. I've bought other cycling books, before but nothing compares to this one. There is no "filler" in this book.
This book is not just concerned with ultralong distance races, it uses words like "the event" and "personal goals". You can read it and not feel too ashamed that you're not a pro, if you know what I mean. It caters for everyone. It also has a humurous style, which will make it enjoyable reading. It is very easy to pick up and start reading anywhere.
It has chapters on nutrition, stretching, off-season training, lots on training and technique…and that HYDRATION is the key. Ed & Ed (the authors) give you lots of tips (e.g: about how to maximise your time on the bike when you have other important things in your life; get everything ready for a ride the night before; how to cycle efficiently, etc)
Two things that this book lacks:
I prefer to use the word "Intentions" rather than "Goals".
It just sounds better. Use whatever word will make you feel motivated. Not much wrong there though, right? 
The ONLY thing I can think that they forgot to include is this: you should make a long list of all the places you can ride to or that you want to ride to but you haven't ridden to yet – then write down how far each ride is, roughly how long it will take, etc. That way you can easily see at a glance whether you have got the time to go for that particular ride. Plus you can tick each place off as you get to it. Or alternatively you could stick pins in a map – it gives you a sense of accomplishment!
Great book, once again, and you can tell that both Authors have a lifetime of riding experience to share with you.
My favourite line in the book, talking about people who are past their prime and then quit altogether, is this: "They hang up their bikes and live on memories."
One more thing: I started out highlighting all the good bits. By the time I got to the end, I realised I should have just bought some fluorescent paint and dipped the whole book in!!