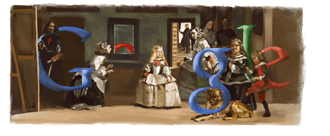 To date, there have been 185 "special edition" Google logos, which can be seen here. I, like many people, use Google to perform internet searches almost daily. I missed a lot of other trivial logos shown previously. So here's my chance to comment on this one before it's too late!
In case you were wondering, Diego Velázquez is a famous Spanish painter. I live in spain, I love art, and quite frankly I don't know why they chose him over many other Spanish painters. Anyway, the real point of this article isn't to discuss Diego Velázquez, as you may have guessed. If you're looking for his biography, you would've clicked his biography, written by wikipedia and displayed no doubt at the #1 rank.
I think the latest Diego Velázquez Google Logo won't have significance for a lot of people. What I mean is that it they'll search for it, it'll appear on wikipedia, 99.9% of people won't even read his entire life story, and then it will fade into obscurity in their minds. I thought the hot air balloon flight last week was irrelevant too.
There are so many moments in modern history, so many new 'discoveries' lately, they could change it every day, every hour or even every single minute. In my humble opinion, I think they should refrain from doing that. Why not show current, truly MEANINGFUL causes that need to attract the attention of hundreds of millions of people, TODAY?
Google has a terrific opportunity to raise the awareness for whatever they see fit. Hundreds upon hundreds of millions of people are exposed to these special logos. I urge Google not to waste this ability on historic events, or it'll become ineffective. If they feel the need to modify their homepage, why not introduce a sidebar instead? Something like "important moments in history" column?

"Earth day" is by far my favourite google logo. The Earth needs our attention far more than any other dead person, cause or invention in either recent or ancient history. Earth is where we live, it's where the Google servers are stored and it's dying. I was going to say "it's dying a slow and painful death", but actually, in its timescale, it's happening all too quickly.