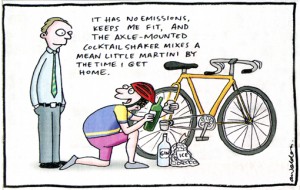 As many of you already know, I'm in the business of renting out bikes here in Tenerife. I've been a part of the bike industry for the last eight years. I might not repeat this much so I'll say it now: I am extremely grateful to have been able to do something that I enjoy all of that time. Above all, I thank my customers who have continue to support me over the years! Thanks so much – you're the best!! 😀
[Apologies for the negative tone of the post. It's pretty clear that I need a change of direction and all I can say is that I'm already working hard on it]
It has not been an easy business to set up. I'm sure that it's not easy setting any business up. I really enjoy a challenge though so that's why I did it. An international vacation style of business is just that much harder as it's not simply a matter of people walking in the front door. There's a big time delay from when people first see the website to the time that they actually get the rental bike here on this island.
The New Standard:
One of the hardest things to achieve from the very beginning has been to get enough quality bikes in enough sizes. I started with two humble 55cm road bikes in 2006 and the fleet just expanded from there. Bigger riders needed bigger bikes. Smaller riders needed smaller bikes. I obliged.
People soon starting asking for full-carbon bikes and so I gave that option. I got busy buying loads and loads of ultegra-equipped full-carbon bikes in up to five sizes. That then became my new standard. In fact, so few people asked for 'standard' alloy bikes, I stopped offering them. Meanwhile, some people found that the carbon bikes were too expensive to rent, which is understandable, because this European crisis has all hit us very hard.
Sizing is much more imporant than materials:
No matter what anyone tells you in a bike shop, getting the right fit is the most important thing of all. I probably would have been wise to do a proper bike fitting session myself. Instead, as a youngster I just bought a lot of different parts off the internet and eventually worked out my correct size essentially through trial and error. That's not necessarily the fastest or cheapest way to do it, trust me.
I need a carbon bike. Carbon carbon carbon. Gimme carbon!!
One thing I find incredibly hard to grasp is that there is a minority that prefers an incorrectly fitting carbon bike instead of a correctly fitting alloy bike. I am talking about 186cm riders trying to manage with a 54cm frame! I just don't understand that. That poses a bit of a dilemma for me personally. I always make riders aware of possible sizing issues. It's nice that you want to go for a ride so bad that you're prepared to go on a frame two sizes too small. But do I rent them the bike if they still want to ride it? That kind of makes our brand look funny though when someone else sees one of our customers riding such a small bike on the climb up to Mt Teide…
Some people don't even know how to recognise a carbon frame. To those people, I'd point out the welds and say "well they're a dead giveaway on a metal bike frame for a start". Are these riders just asking for what they read about in cycling magazines, or what?
Brand Loyalty:
I get the odd silly request. What do I mean by that? Well some people don't seem to have their priorities sorted. For example, they'd ask if we have Specialized bikes. I'd say 'no', and then they'd disappear (meaning, they'd get off the phone as quickly as possible). That's a bit sad don't you think? To have such brand loyalty that you'd rather not go on a bike ride if it's not the correct brand. I fully admit that I have definitely been a complete roadie snob in the past. I still prefer certain brands for for aesthetic/ergonomic reasons. But would I go to a foreign country and request a certain make and model of rental equipment? No.
Do you have more fun on a cheaper bike?
No one else loves a great bike more than me. I've always been into quality bikes and bought top end components ever since 1992. I have to ask the question: do you really neeeed to have a top of the line bike to be happy as a cyclist? I think not. Many of my best cycling moments were done on very mediocre bikes. Probably my most memorable ride of all time was when a loop I did around Bora Bora in French Polynesia. It was a simple, basic steel-framed singlespeed French-style street bike. No clipless pedals. Just a very basic bike with no toolkit – no spares at all! Yet I remember that ride more than all others. Why is that?
More expensive bikes don't always mean that they are better or more enjoyable to ride. In fact lighter bikes are quite often much more temperamental. They are less practical and possibly not as comfortable either. You don't tend to ride them to the beach or in the rain. Think about that.
The situation with MTBs:
The North of Tenerife is truly great for mountainbiking. People soon wanted to hire MTBs off me so I got a bunch of MTBs in addition to the road bikes. Then people wanted dual suspension bikes so I got dual suspension bikes. A few people wanted true downhill beasts, turning their noses up at our full suspension bikes.Just in case you're wondering, there aren't many full on downhill rental bikes available in Tenerife. Right. So over the last 5 years, I've watched as the MTBs have certainly evolved a lot. Things are starting to get a bit ridiculous now though because people want 29er bikes. That is where I draw the line though. They may well ride a lot better (especially so for giant 190cm riders I'd imagine). I don't know because I've never ridden one. I don't plan on riding one. I think we've got to ask ourselves the question: "what is good enough?". Do you really need a 29er? How the hell do you fit a 160cm rider to a bike with 29″ wheels? So there's that. It's not so much the thought of 29″ wheels. It's the thought of: "what's next?"… and once that becomes the new normal, what after that?
The future?
I can already foresee that people are soon going to start requesting bikes with electronic shifting, 11 speed, 12 speed, road bikes with hydraulic disc brakes and so on. It's got to the point where I personally don't enjoy buying so many bicycles anymore because I know that they're only going to last 1 to 3 years max.
New management?
Quite frankly, it's all become a bit too much for me alone to handle. I don't want the fincancial responsibility of a shop and an employee when we're planning on moving back to Australia.
If you like buying bike bits all the time, then you might consider purchasing this business and taking over where I have left off. You can certainly make a lot of money from it! It would be ashame to see it die. If it sells, I can look back and say: "I founded that business". That would be a nice accomplishment on my resume.
I'll be completely honest and say that I don't agree with all this blatant consumerism. My best bike is now 14 years old. I'm perfectly happy with bikes from my era. One of my concerns today is one of sustainability, not just for the business but for the environment too. More on that in another post…
So what I'm saying is that I have grown weary of buying new cycling equipment all the time. I would rather go out and ride what I have available to me now, today. Personally I'd like to slow down and enjoy life a bit more… after all… that's one of the reasons I came to Tenerife in the first place. 😉